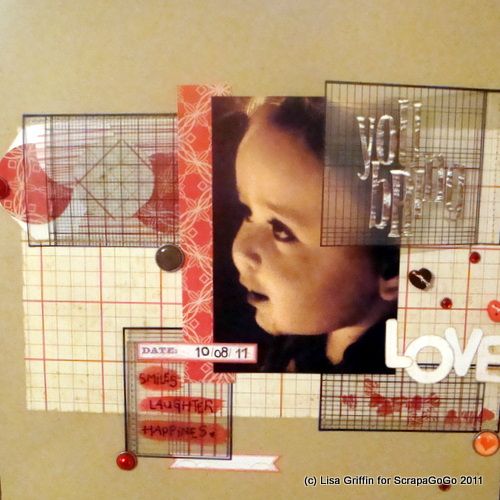 The Maya Road Ledger transparencies within this months kit are a flexible little embellishment that you can have a little play with and being so versitile can be used on ANY project.

I decided to place them all on a LO using each one in a different way. And having used my sewing machine with my Hybrids I thought that I would use it with the transparencies... and it worked! Although, using a little heavy duty clear glue would also work.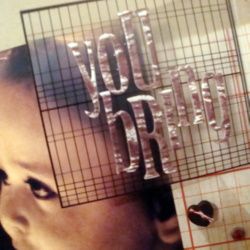 After placing my papers from the Create kit on the page with my photo I placed my title on a ledger, scoring a fold in to it allowing it to open up so that you can lift it up to see the photo fully. I sewed in place to the side of the fold.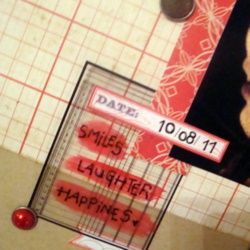 For my additional words I placed a little paint from my own stash on the ledger, slightly tucked under the paper- writing my words on once in place... "smiles, laughter and happiness"....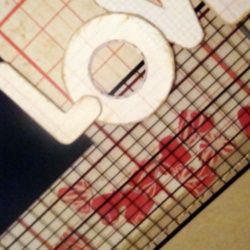 I made my own little "shaker" on the LO by punching hearts from the paper... to allow them to stay in the ledger I stitched the three sides of the ledger- placed them in and then glued the word LOVE to the top, having cut out the individual letters from the Studio Calico Letterset paper. It's great seeing the hearts move inside the ledger.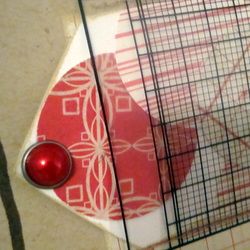 I also made a little pouch to place a tag in on the LO as I am aware that I am not the best at journalling... so it's a great way to get some words on the LO. I was able to write about Noah's first holiday when the photo was taken at a family meal.

Placing some additional brads and the wooden button hearts whch I inked brought the LO together.. bringing a brighter splash of red. I love the photo as it capture my little man as you will often see him... "taking it all in" bringing a smile and so much love to everyone around him...

We look forward to seeing what you do with your ledgers.....

See you soon,