July 2012: "Picnic Basket"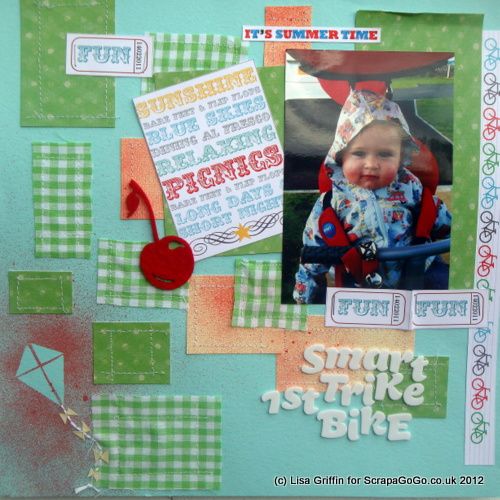 The colours presented in Julys kit are so bright and colourful, bringing a smile to me face with all this rain. It was just last year that we were away on a family holiday to Caister. Staying in a caravan, going for walks and having fun on the beach as we were fortunate to have Mr Sunshine with us.

The holiday was a perfect opportunity to let Noah have fun in his first bike a smart trike. The bright red colour of the trike and his little camper van jacket match perfectly with this months kit.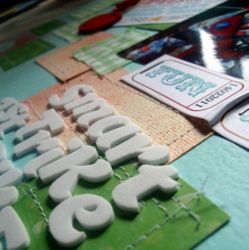 During our time on the beach we would place the blanket on the sand and put up the wind breaker, giving me an idea of placing the gingham material in squares- stitching squares on them to give a little more texture. I decided to also run a couple of rows to go behind the title.

To mix up a splash of colour I also added sqaures of cardstock. The pale Bazzill needed a little lift- which I was able to achieve with a little spray of red paint from my own stash. The tickets were adhered with staples adding a little fold.




I cut from the hybrids the kite to act as a mask on the page for another little spray of paint- adding the tail with a stitch and the ribbons were from cardstock.

The bright red cherry really lifts the LO to sitting alongside the fantastic hybrids.