Well the 'brief' this month was to use lots of little photos on the page, and we had the perfect occassion in July to be able to accomplish this in one go


My nephew celebrated his 13th birthday and there was a lovely family party - I let Saskia have my camera to take lots of family pictures, and these are just a few (she took LOTS) - I think she did amazing!

I have just scattered the photos in a random 'maize' and where there was a bit of space added one of the little shapes from the Thickers Alpha - perfect for colouring with Promarkers to match your colouring!




I loved the Websters Picnic range in this months kit, and sneaked a piece from our crop kit onto this layout as I loved the table and chairs and just 'needed' to cut them out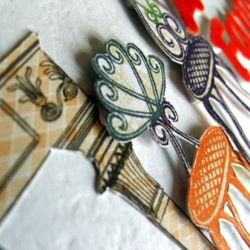 My album of 12 in 12 is building up nicely, we are half way through and I have a fab document of those little things that might have otherwise not got a mention!

Oh! and I 'doodled' around the edge of the page, to prove I have been practising after my failure of last months challenge. 
Are you joining in the '12 in 12' challenge?  We would love to see your designs!