I had a little dilemma this month with the kit as the spotty green paper and plain Bazzill card were just perfect for my photo of Ariel at the the Disney Parade, although the colours in the photo mainly pinks and purples were not the colours featured in the kit.....

Versitility of the "Whistful Whimsies" showed through as after having a lots of fun with sprayable glitter mist paints also colouring in the tag with some glitter pens, the LO came to life, matching and complimenting the photo.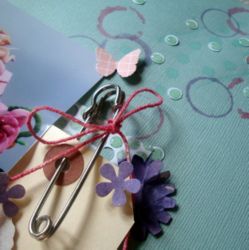 The spots on the paper remind me of bubbles- which became my theme on the LO. I punched out some little circles (Using my ticket punch)- keeping the circles to place on the LO. I also punched out circles to use as a negative on the base card- with a pale green glitter paint. I then started to build this up- using the base of my paint pots as "stamps" for more bubbles- in purple and pink. Once I had glued the tiny little circles on the page I placed Glossy accents on the green providing an embossed wet look. I repeated this on the paper behind the photo. I was able to stain the tie from the tag with the spray too.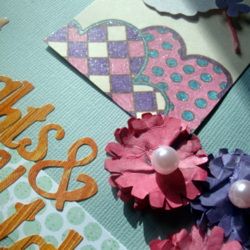 I made some little flowers from punched circles, layering them and also spraying them and the pearls look fantastic sitting on them, as if Ariel has captured these herself. The parade is truly magical and I now have a lovely LO to remind me of a truly special day.