On seeing the beautiful burlap within the October kit, I could not have wished for a better embellishment to create a LO of Joseph, that we took whilst in hospital- cuddled up in a muslin.

The paper with the "gates" reminded me of the gates that used to be around my school... (and yes that was a while ago!) and within these gates I felt safe.... so here started my idea for the LO. I built the LO up by cutting some leaves out and then placing them on the page - spraying with a paint mist in green, from my own stash, revealing the negative image once the leaves were removed. I mounted my photo on the plain cream bazzill to lift it from the patterned paper.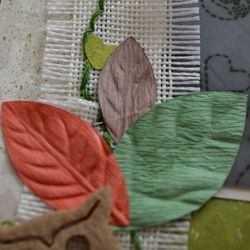 I then stitched a "vine" up the burlap in green to match the detail on the muslin in the photo, I attached the burlap with my stapler allowing for a couple of folded creases to give a little more detail, whilst doing this I was carefull to allow the vine to match up when placed together. I placed the hearts- either side for a little more detail- to get these I sprayed on the cream bazzill with my green paint spray and then punched them out, when it was dry. I glued both the the owl and leaves to the bottom of the burlap. I had a little mishap with the owl as I used some strong material glue - which "bled" through the owl, leaving a white colour on the owl - reminding me of a care bear. When this happened I was unsure how it would dry- so placed another green heart in the centre. The glue dried with a lighter colour on the owl- phew!!! and the heart does give a little more detail.


I then placed the craft flags to the right side if the photo punching out a flower and adding further hearts. The title was easy... Always be Safe & Loved. Which is a simple and heart felt wish that we have for our latest member to "Team Griffin".