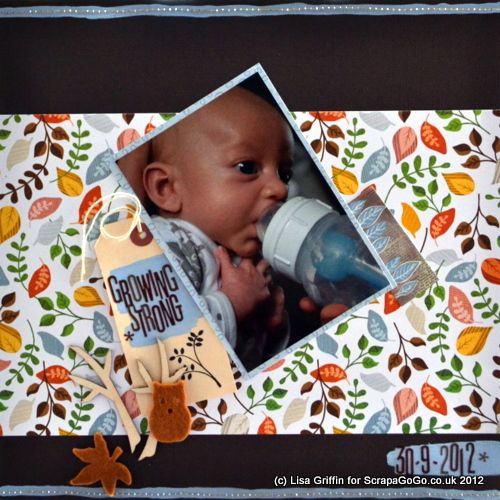 I have a confession... I have been known to buy clothes to match papers that I have at home as I know that they will make a great LO.
Thankfully the colours of this months kit match one of my favourite outfits that fits Joseph at the moment, (saving me some pennies to spend on stash ) with a print on the top of squirrels and trees it was perfect for the kit. So I took the opportunity to take a picture whilst he was having his feed with daddy.

The LO came together rather quickly.. I added some pale blue paint to the top and bottom of the LO across the page in a strip and once dry I stitched on top in using beige cotton. Once I had placed the papers on the page I added another splash of paint to the page and the tag to allow both the title and date to stand out. I created my second no 2 from a question mark and the number seven from the alphas.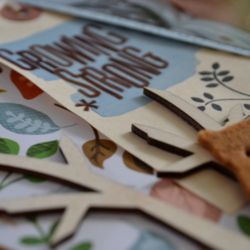 I did not have enough paper to mount my photo with a full mount behind the photo but was able to successfully create the mount from strips of the paper I wanted to use and you cannot see any joins... I am thinking that this would look good with coordinating papers - with deliberate contrast.

I then grouped some embelisments to the left of the photo to finish the LO. I am pleased that I have a picture of my little man in this outfit as I am sure that it will not fit him for much longer.