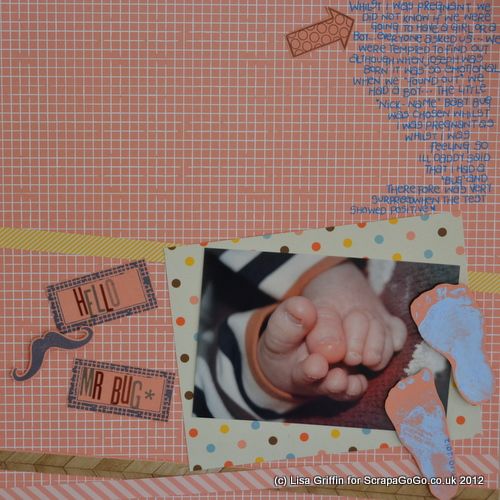 The bright "Apricot" colour within this months kit matches perfectly with a photo I have just had printed of Joseph's little toes, the match is with his striped trousers.

I wanted to keep the LO simple as for me the main focus is on the photo. The strips remaining from the Amy Tangerine papers were perfect to place underneath to help break up the grided paper along with my spotted photo mount.

I decided to play with some stamps from previous kits showing how veritile they are. I decided upon an arrow to draw attention to the journalling, a moustache to reflect my little boy and the frames fitted the alphas. Can you guess which months the stamps were in?

I took up the challenge of placing some journalling diretly onto the LO- the gridded paper was a goog guide to help keep my writing strainght.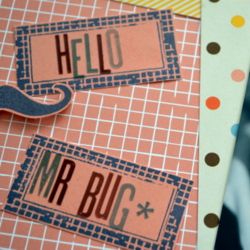 I took the opportunity to make my own embellishment with Josephs feet to the right of the photo. I painted them with pale blue paint from my own stash manging to get them on the paper, the right foot is a little smudged as Mr Bug was a little "wriggly", it was great fun, I decided to place them on the LO with foam pads to give a little depth. Have you ever used foot prints or hand prints on a LO?? Its a great way to capture growth.